9 Ways to Make Passive Income With Amazon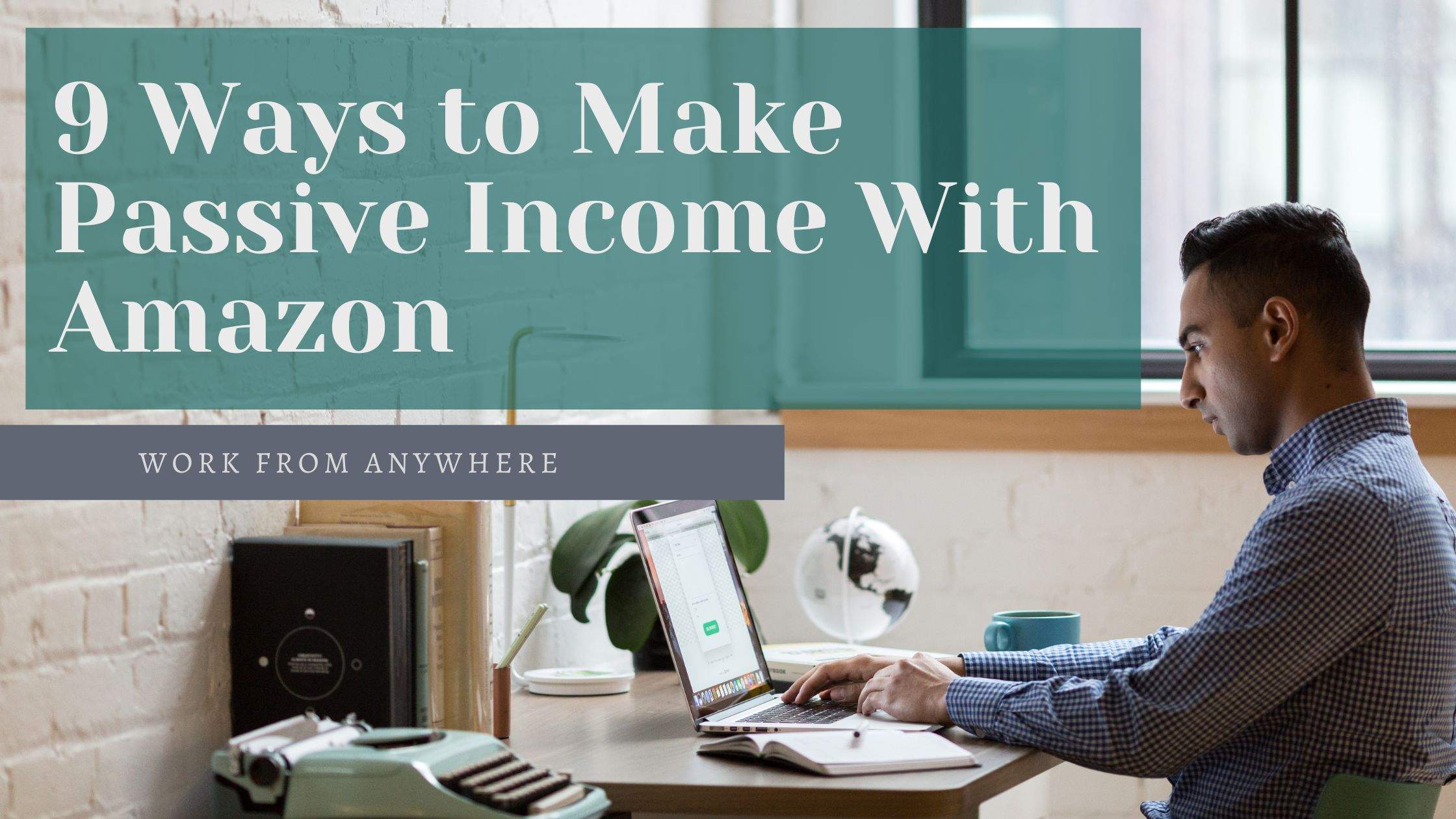 Learn how to make passive income on amazon in 2023
Introduction
You love Amazon, we love Amazon, and everyone loves Amazon. It's the one-stop shop for all of our online needs, and with good reason: it's convenient, affordable, and reliable. But what you might not know is that you can make money with Amazon, too!
Yes, you read that right. You can use the power of Amazon to create passive income streams. Below are nine ways to do just that. So get ready to start making some extra cash—Amazon style!
What Is Passive Income?
So what is passive income? In short, it's income you earn without actively working for it. It's the opposite of active income, which is what you earn from your day-to-day job.
With passive income, you set it and forget it. You do the work once and then continue to reap the benefits long after. This could come in the form of royalties from a book you wrote, rent from a property you own, or dividends from stocks and shares you own.
How to Start a Passive Income Stream on Amazon
There are a few different ways that you can start a passive income stream on Amazon. In this section, we're going to go over a few of the most popular methods.
One way is to create and sell products on Amazon's marketplace. This can be done by registering as an Amazon seller and creating a product listing. You'll need to provide details about your product, such as the weight, dimensions, and price. You'll also need to create a product description and choose some keywords that will help customers find your product.
You can also create an Amazon affiliate account. This allows you to promote products on Amazon and earn a commission for every sale that you make. You'll need to add a special tracking code to your website or blog so that Amazon knows when sales are made as a result of your promotion.
There are also a number of ways that you can make money from Kindle eBooks. You can self-publish your own books and then sell them on Amazon. You can also publish books in partnership with Amazon's Kindle Direct Publishing program. And, finally, you can sell other people's books through the Kindle Owners' Lending Library.
Selling Physical Products on Amazon
You can create a passive income stream by selling physical products on Amazon. All you need to do is find a supplier who can provide you with high-quality products at a good price, and then create an Amazon listing for those products.
When someone buys your product, the supplier will ship it directly to your customer. This process is called Fulfillment by Amazon, or FBA, and it's one of the best ways to create a passive income stream.
There are a few things to keep in mind when creating an Amazon listing:
– Make sure your product photos are high-quality and accurate
– Write a keyword-rich product description that will help your product rank higher in Amazon's search results
– Use bullet points to list the benefits of your product
– Incentivize customers to leave positive reviews by offering them a discount or freebie
Publishing E-Books With Kindle Direct Publishing
Did you know that you can publish e-books on Amazon and make passive income? It's true! With Kindle Direct Publishing (KDP), you can self-publish your book and earn up to 70% royalties. And the best part is that you can do it all from the comfort of your own home.
Here's how it works: first, you'll need to write your book and format it as a PDF. Then, you'll upload it to KDP and set a price. Once your book is live, people will be able to buy it and you'll start earning royalties.
It's important to note that you won't get rich overnight with this method. But if you're consistent and put out quality content, you can build up a passive income stream that will provide you with extra money month after month.
Selling Products on Amazon Handmade
If you're a crafter, one way you can make passive income on Amazon is by selling your handmade products on Amazon Handmade. Amazon Handmade is a marketplace for artists, artisans, and crafters to sell their handmade products to Amazon customers.
To be eligible to sell on Amazon Handmade, your products must be handmade, hand-assembled, or hand-altered by you or your team; mass-produced products are not allowed. And each product you list must be created, packaged, and shipped by you.
When a customer buys one of your Handmade products, Amazon will collect the payment and then deposit the money into your bank account every two weeks. You'll also need to pay a $39.99 monthly membership fee to sell on Amazon Handmade. But other than that, there are no additional selling fees.
Dropshipping on Amazon
Dropshipping is a business model in which you sell products without having to carry any inventory. When a customer places an order on your store, you simply contact the supplier, who will then ship the products directly to the customer's door.
Dropshipping is a great way to get started with ecommerce because it's easy to set up and requires very little capital. Plus, there are a number of Amazon dropshipping tools and plugins that can automate many of the tasks involved in running a dropshipping business.
To get started with dropshipping on Amazon, you'll first need to find a niche and supplier. Once you've done that, you can create your listing and start marketing your products. Dropshipping can be a great way to make passive income on Amazon, but it's important to remember that it's still a business, so you'll need to put in the work to make it successful.
Promoting Amazon Affiliate Links
If you're not familiar with Amazon's affiliate program, it's basically a way for you to earn commissions by promoting products from their site.
The way it works is that you sign up for the program and then get your own unique affiliate link. Once you have that link, you can promote it on your blog, social media, or anywhere else. And if someone clicks on your link and ends up buying something from Amazon, you'll earn a commission.
It's a pretty simple way to make passive income, and it can be especially lucrative if you're promoting products that are related to your niche. For example, if you have a blog about hiking, you could promote hiking gear from Amazon and earn a commission on every sale.
To get started, all you need to do is sign up for the Amazon Associates program. Once you're approved, you can start promoting products and earning commissions!
8 . Become an Amazon Mechanical Turk Worker
If you're not familiar with Amazon Mechanical Turk (MTurk) it's a way for businesses to get tasks completed that they might find difficult or time-consuming to do themselves. And as a Mechanical Turk worker, it's your job to complete those tasks.
The tasks, or "Hits" as they're called, vary widely. They can be anything from transcribing a video to taking a survey to write product descriptions. And since Amazon is such a huge company, there are always plenty of Hits available.
To get started, you'll need to create an account and complete a profiles and qualifications test. Once you've been approved, you can start working on Hits and earning money. Payment is made via Amazon Payments, and you can cash out your earnings whenever you want.
Utilize Fulfillment by Amazon (FBA)
This is a great way to make passive income with Amazon, and it's one that I personally use. Fulfillment by Amazon, or FBA, is a service that Amazon offers that lets you store your products in their fulfillment centers. And what this means is that when someone orders one of your products, Amazon will pick, pack, and ship it for you.
The nice thing about FBA is that you can make money even when you're not actively selling your products since Amazon will do the work for you. And on top of that, you can also earn money from the referral fees that Amazon charges for each sale.
To get started with FBA, all you need to do is create an account and then list your products. Once you've done that, Amazon will take care of the rest.
Conclusion
So there you have it: nine ways to make passive income with Amazon. No single method is the "right" way to do it, so you can try a few and see which ones work best for you. Amazon is a great way to make passive income because there are so many products and services you can sell through the platform. With a little bit of work, you can build a passive income stream that lasts for years. Thanks for reading!